The 10 Best Rabbit Toys: Comprehensive Buyer's Guide
Do you have a rabbit? Or maybe you're considering getting one soon. In that case, rabbit toys are a must! We all know that rabbits love to chew on things and explore their environment, which is why rabbit chew toys are an essential part of your rabbit's toy collection.
Chewing on treats and toys can help rabbits keep their teeth healthy and wear them down, preventing them from growing too large. The more a rabbit chews, the better it can maintain its fast-growing teeth.
These toys are suitable for all rabbits as one of their most natural behaviors is gnawing. And, when you encourage a rabbit's natural behavior, you're well on the way to raising a healthy rabbit.
However, before you rush off to buy rabbit toys, you probably already figured out that there are many different kinds of bunny toys out there.
This is why we've compiled this comprehensive guide for you and your pet rabbits! So that when it comes time to buy new bunny rabbit toys, you'll know exactly what to get!
Benefits Of Rabbit Toys
Rabbits are some of the most energetic and inquisitive creatures that you'll find in the wild. Always eager to run, jump, and discover new things, your pet rabbit will undoubtedly love playing with toys and rolling them around.
In fact, one of the most significant advantages of purchasing toys for your rabbit is that they will have something to gnaw on.
When rabbits are bored, they might chew on your furniture or clothes. This is because they need to be stimulated. When offered enough entertainment and activity, rabbits will cease or limit these undesirable behaviors.
Furthermore, your rabbit's teeth must be worn down by chewing to keep them at a reasonable and healthy length. In the wild, barks and vegetation would wear down your rabbit's continuously growing teeth over time, preventing dental issues.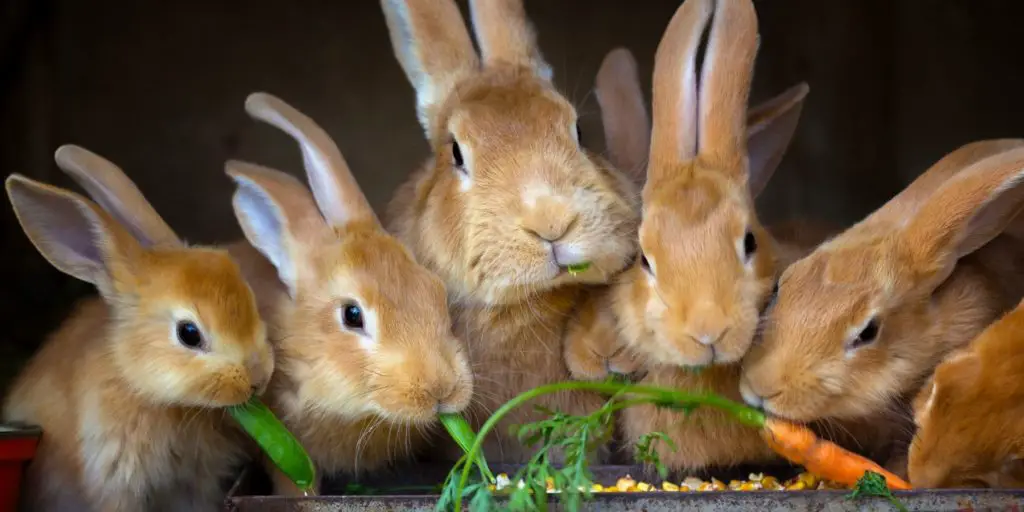 How To Pick Out The Perfect Rabbit Pet Toys
Rabbits can play with any toy that is safe for them. Toys made for cats and dogs can be used with rabbits too. The best rabbit toys will have the following elements:
Made of natural substances
They do not contain any softwood, which is poisonous to rabbits.
There are no harmful chemicals, fragrances, or plastics.
Not constructed of smaller pieces that rabbits may choke on.
No sharp edges or dangling strings.
Types of Rabbit Toys
In the wild, rabbits are known to play with sticks and twigs. This is why most commercial rabbit toys are made from untreated hardwoods which can be chewed on or pushed around in any way they choose.
Anything that a rabbit can chew on or push around is likely to become a toy for them, from a beautiful wooden toy to your shoes. Anything ideal for chewing, your rabbit will turn it into a toy.
How To Make DIY Bunny Rabbit Toys?
If you're in a bind and can't get a rabbit toy online or make it to the pet shop, here are some ideas for recyclable items you may use to make DIY rabbit toys at home:
Cardboard boxes, made into forts and tunnels
Paper grocery bags
Toilet paper or paper towel rolls
A box full of shredded printer paper (no ink on it)
Fresh branches from an apple tree
Untreated wicker baskets
The 10 Best Rabbit Toys – Reviews 2023
Pweituoet Rabbit Chew Toys, Small Animal Chew Treat
You already know that your floppy eared friends need healthy teeth; the Pweituoet Rabbit Toy is an excellent bunny rabbit toy that encourages healthy chewing.
They're made from natural materials that promote dental health, digestion and relieve boredom. As one of the best rabbit toys, it promises to give your rabbit hours of extra fun!
It comes with various accessories and toys in different shapes and colors, so there's something for small binnies and even larger bunnies.
1 Toy pendant
1 Loofa Carrot Toy
1 Willow branches ball
1 seagrass ball
5 Timothy hay stick
5 Sweet Bamboo
The best part is these chew toys are 100% safe, with no chemicals or toxins added in any way. So go ahead and treat your pet rabbit to some new toys!
Natural Timothy Hay Sticks For Small Animals
This natural Timothy hay stick is a popular rabbit food that provides essential nutrients for rabbit's health. They are made of 100% natural timothy hay, which is very good for rabbit's teeth and allows your rabbit to chew it to wear their teeth down.
It also has a high fiber content which is perfect for the healthy growth of rabbit teeth.
20PCS Natural Timothy Hay Sticks
In addition to being tasty, these sticks help to improve dental health and are handmade with natural materials. The timothy grass powder forage production is rich in high fiber, helping to speed up gastrointestinal peristalsis, making it a perfect addition to your rabbit's diet.
ERKOON Bunny Chew Toy
These bunny rabbit chew toys are also made of natural Timothy grass, which is attractive to your pet; it can also be used as a snack for your rabbit. ERKOON turns Timothy grass into spherical shapes, which are more stimulating to rabbits.
Rabbits tend to eat their poop, so they need some different rabbit toys in size and shape. This rabbit chew-toy provides an additional fun way for rabbits to play with each other or by themselves.
ERKOON 3PCS Bunny Chew Toys
This rabbit toy is made from 100% natural ingredients, including Timothy hay and apple branches, which are rich in vitamins and easy for small animals to chew and digest. The chew balls made from Timothy hay are perfect for promoting the healthy growth of rodents' teeth while also providing safe and satisfying chewing experience.
BWOGUE Bunny Tunnels & Tubes
BWOGUE Bunny Tunnels & Tubes rabbit toys are perfect for any rabbit or small animal owner. Three extensive tunnels, a peephole, & a movable ball toy give your bunny more ways to have fun and keep them entertained for long hours.
These toys are constructed using an extremely durable, tear-resistant polyester material with a flexible steel wire frame with protective ends so that you won't have to worry about scratching or injuring your bunnies.
Rabbits are naturally curious, which means they will enjoy these toys! It's an excellent way to get them out and about more and provide them a feeling of security.
BWOGUE Bunny Tunnels & Tubes Collapsible 3 Way Bunny Hideout
The bunny tunnel is designed with three spacious tunnels, a peephole, and a movable ball toy to keep your rabbit entertained for hours. It is made of tear-resistant polyester and supported by a flexible steel wire frame with protective ends, ensuring safe and durable construction.
Hamiledyi Pet Rabbit Hanging Toys
Hamiledyi Pet Rabbit Hanging Toys are ideal chew toys for bunnies. They're constructed of 100% natural components and dyed with colors that are non-toxic and safe for your tiny companion.
The bright carrot color is easy to spot against other hanging toys in their cage or playroom. It also makes them easier to find if they fall off of the toy bar!
You can rest easy knowing that these toys are completely safe for your small pets, but don't take our word for it – check out some of the reviews below!
"I bought two of these (one orange and one green) about a month ago, and my bunnies love them!! They're very durable; I've had no issues with any strings coming undone or anything like that. My bunnies enjoy chewing on them, which helps keep their teeth filed down."
"My bunny loves this product! She's been playing with it since I got it!" "This was an instant hit with my rabbit!"
Peter's Woven Grass Play Ball for Rabbits
Peter's woven grass play ball is a great way to keep your rabbit entertained for hours. It's made from 100% natural grass, making it non-toxic and ideal for chewing.
Living World Teach N Treat Rabbit Toy
This rabbit toy will keep your bunny happy, healthy, and entertained while teaching them how to find hidden food rewards in fun ways.
You can adjust the difficulty level as needed, so it's always challenging but not frustrating for your furry friend.
And because this is a treat-dispensing toy, it encourages rabbits to be more active, which means they get plenty of exercise every day! Your bunny will love playing with this fun new toy!
Living World Teach N Treat Toy
This interactive toy is not only rewarding, but it also helps teach pets to search for treats, making it a stimulating and educational experience. With three levels of difficulty, it provides an optimal learning experience for your pet. Additionally, it promotes physical activity, keeping your pet healthy and alert.
Niteangel Natural Bamboo Chew Small Rabbit Toys
Niteangel Natural Bamboo Chew Toys are made from 100% natural material and promote the healthy growth of your rabbit's teeth.
They also have a sweet taste that will keep them coming back for more! This product comes with 20 pieces, so it's sure to last you quite some time. A perfect way to combine rabbit toys and treats in one!
You can feel good about giving this product to your pet because it is entirely safe and non-toxic. Since it's also great for their dental health, it means they won't need any expensive trips to the vet in the future.
Niteangel Natural Bamboo Chew Toys for Rabbits
Niteangel offers high-quality chew bamboo sticks molar toys that are perfect for keeping your bunny entertained and active all day long. These safe and natural toys are made of natural bamboo with no additives, providing a natural sweet bamboo flavor that easily attracts your pet's interest to chew.
Kaytee Perfect Chews Rabbit Toy
The Kaytee Perfect Chews Rabbit Toy is the perfect chewable toy that will keep your rabbit entertained and satisfied. It's also one of the few cheap rabbit toys on the list. A total bargain!
It has a metal attachment hook, so it's easy to hang in any habitat, making it safe and fun for your furry friend. It's made of natural pine wood; this chewable kabob satisfies their need to chew and gnaw while being completely safe.
Your pet will love chewing on the wooden ball, log, carrots, and block! They'll be occupied all day long with these specially made toys.
And if you're worried about safety, then don't be – the Kaytee Perfect Chews are entirely safe as they're made using a natural vegetable dye that is non-toxic and free from chemicals or preservatives that could harm your pet's health.
Oxbow Play Post Small Animal Toy
The Oxbow Play Post Small Animal Toy is the perfect way to keep your rabbit entertained and stimulated! It's designed with your pet in mind, providing them with mental and physical enrichment while also encouraging natural behaviors like foraging, exploring, digging, and chewing.
Made from all-natural materials like sisal rope and woodblocks – which are both completely safe if ingested by your pet – this toy is sure to provide endless fun without any worry of harm coming to them.
Oxbow Enriched Life Rabbit Play Post
This product line is innovatively designed to meet the key instinctual needs of small pets, providing mental and physical enrichment. All products are made with safe, natural materials that are free from harmful chemicals and toxins, ensuring your pet's health and well-being.
We hope you found this article about the ten best rabbit toys to be informative and helpful.
You can also see more rabbit toys for sale below. Just in case you need a few more options!
We also hope you will consider our other pet-related articles, such as: "How To Pick The Right Rabbit Food For Your Rabbit" or "What Is A Good Rabbit Litter Box?".