House For Rabbits: Hutches & Cages – Best Buyer's Guide
House for Rabbits! If you are looking to buy rabbit hutches or cages, then this article is for you. We will go over the benefits of rabbit hutches and rabbit cages, what to consider when shopping for rabbit hutches & rabbit cages, and the best options on the market!
Top Rabbit Hutches & Cages
These are the best rabbit hutches and rabbit cages for indoor and outdoor use:
Best Indoor Rabbit Cage – MidWest Wabbitat Deluxe Rabbit Home Kit
MidWest Wabbitat Deluxe Rabbit Home Kit is the indoor rabbit cage that provides your pet with an elevated eating platform, a private space, and it's easy to assemble.
You will also get a hay feeder, water bottle, and feeding bowl with this rabbit kit. The only drawback we found is that it is relatively small and won't be suitable for larger rabbits.
Best Outdoor Rabbit Cage – Trixie Natura Outdoor Rabbit Cage
This outdoor rabbit cage from Trixie Natura provides a durable and easy-to-maintain home for your pet bunny. It has a double-layer construction, metal side latch, and hinged roof for easy access. There is plenty of room for rabbits to explore, sleep and play in their cage. It comes in various sizes so choose the one that suits your needs best.
Best Cheap Rabbit Cage – Midwest Wabbitat Folding Rabbit Cage
Midwest Wabbitat Folding Rabbit Cage is a cheap, sturdy, and lightweight rabbit cage. It's easy to set up and easy to clean. However, although it has a reasonable price, it's more suited as a rabbit carrier for transporting your bunnies.
Best Waterproof Rabbit Hutch – Good Life Two Floors Rabbit Hutch
This waterproof hutch is the perfect home for your pet rabbits. Your little bunnies will love having a cozy hiding space to hide in. This durable hutch can fit up to 3 small rabbits or two larger bunnies! The extra-large size means you won't have to worry about overcrowding any time soon!
With removable plastic trays, cleaning up after your rabbit has never been easier – take out the tray and wash it off with soap and water. This weatherproof rabbit hutch is made from quality hardwood that won't warp over time, so you'll be able to enjoy this product for years of use without worrying about it falling apart.
What's the catch? It's a little on the pricy side, and may be a bit roomy for a single bunny,
Best Indoor Rabbit Hutch – Aivituvin Indoor Rabbit Hutch
This rabbit hutch features a deeper pull-out tray for easy cleaning, and quality plastic trays that won't leak or rust. The hutch has 2 detachable side doors and 3 lockable front doors for easy access. The waterproof asphalt roof protects pets from intense light and allows them to run outdoors even on rainy days. The predator-resistant spring latch keeps pets secure. The hutch is easy to assemble with pre-drilled holes and measures 57″ L x 21″ W x 33″ H.
Best Outdoor Rabbit Hutch – TRIXIE Natura Single Rabbit Hutch with Large Run
If you give your rabbit lots of love and attention every day, while also letting them have plenty of time to entertain themselves, then this is the hutch for you. It has everything an indoor or outdoor bunny needs: a ramp, run with chew-proof wire mesh flooring, and even a hutch with two doors, so it's easy to clean out those litter boxes.
Frequently Asked Question
What Is A Rabbit Hutch And How Does It Differ From A Rabbit Cage?
Rabbit hutches and rabbit cages both house rabbits, but they are different in many ways.
Rabbit Hutches
A rabbit hutch is a housing structure for rabbits that usually has the shape of an enclosed box on legs with doors or flaps to allow pets access inside. Rabbit hutches can be either indoor or outdoor, depending on their type.
You can find simple structures of wood boards fastened together to create walls, roofs, and rabbit runs that serve as flooring. Or, more complex designs with multiple areas, including ramps leading up to elevated walkways where food bowls are kept off the ground and away from rodent contamination.
Rabbit Cages
A rabbit cage also houses rabbits, but it is more of a wire or plastic frame with only one level. Rabbit cages are often used for breeding purposes indoors because they tend to be smaller, which helps keep them clean and limits the number of offspring produced at once.
Rabbit Hutches vs Rabbit Cages- What's Best?
To determine whether you should invest in a rabbit hutch or rabbit cage, consider the pet's needs when deciding between indoor and outdoor housing options. For example, large rabbit breeds like the Continental Giant Rabbit would do better in a hutch. On the other hand, dwarf bunny breeds can do fine in cages.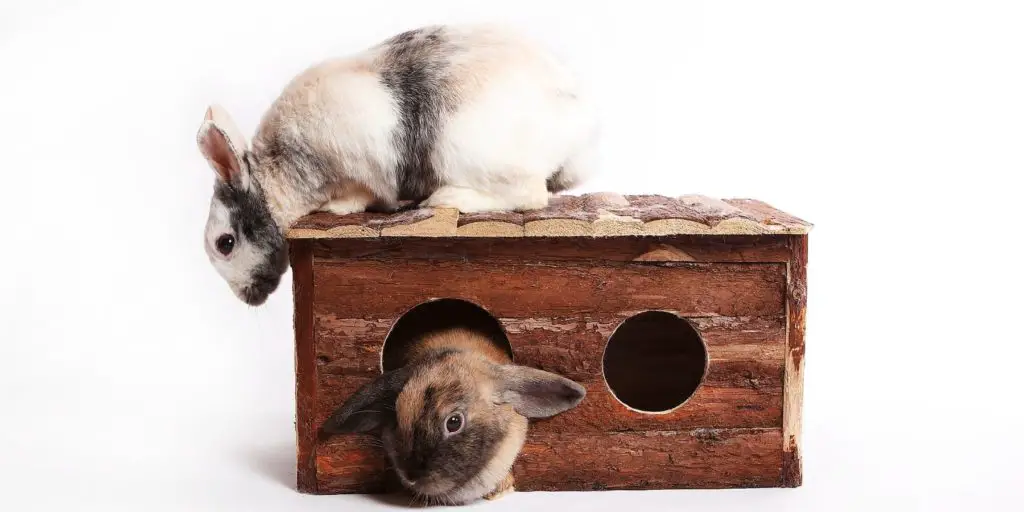 Things To Consider When Buying Indoor Rabbit Cages
Size
The size of your rabbit is one of the essential considerations to purchase indoor rabbit cages—rabbits like higher places where they can see what's going on in the room. Usually, indoor rabbit cages are standard 32 – 36 inches tall.
Rabbits require a lot of room to be happy, and the majority of experts recommend a minimum distance of three hops within the cage. We suggest picking out the most oversized pen you can afford and putting it in your home.
Even if your cage has the bare minimum space, we strongly advise allowing your rabbit to run free in your house for several hours each day for mental and physical activity. A rabbit's health depends on regular exercise.
Privacy
Rabbits can be nervous. They like to have a place to escape, so many cages have a place to hide that is also used for feeding. Sometimes there are places just for hiding, but that takes up space inside the cage if not designed well. Whatever the case, at the bare minimum, provide a little hide spot for your bunny in its cage.
Flooring
You may teach a rabbit to use a litter box, but most cage-bound rabbits go where they stand. If you can't train your rabbit to use a litter box, you'll need an enclosure with a wire floor so urine can flow through to a plastic base below. If you've taught your rabbit to use the toilet, many cages come with an area specifically for this purpose.
Safety
When buying a rabbit cage, one of the most important things to consider is the material used. If you're using metal cages, you need to be concerned about rust and corrosion. With treated metal cages, you must be concerned whether the finish on the treated metal is poisonous to rabbits or easy to scratch off.
Cedarwood is highly preferred by pet owners, especially for litter, due to its pleasant scent. However, cedarwood contains phenols that are highly toxic to rabbits and can destroy their livers.
Another popular wood that throws off harmful phenols is pine. Many professionals believe that heat-treated wood is acceptable to use; however, rabbits can chew through wooden cages, making it inconvenient for usage.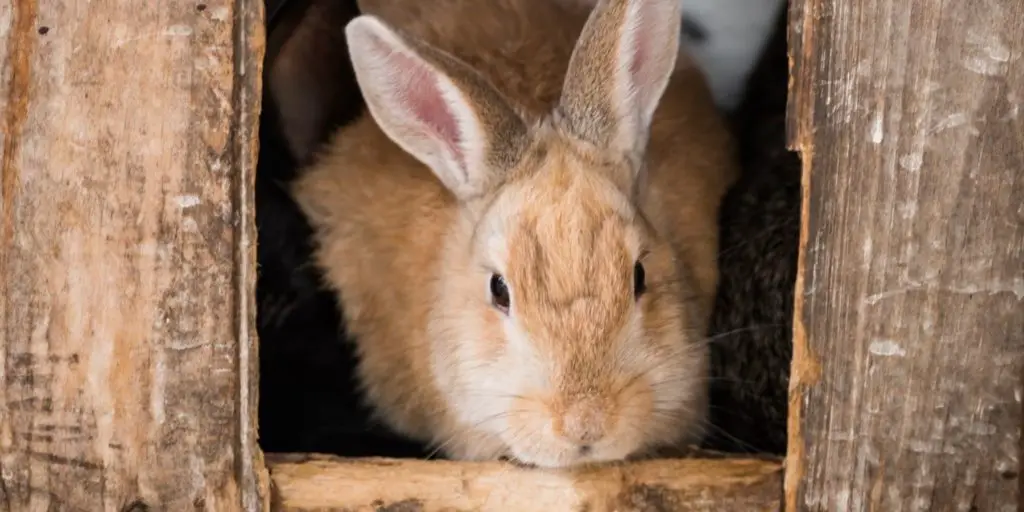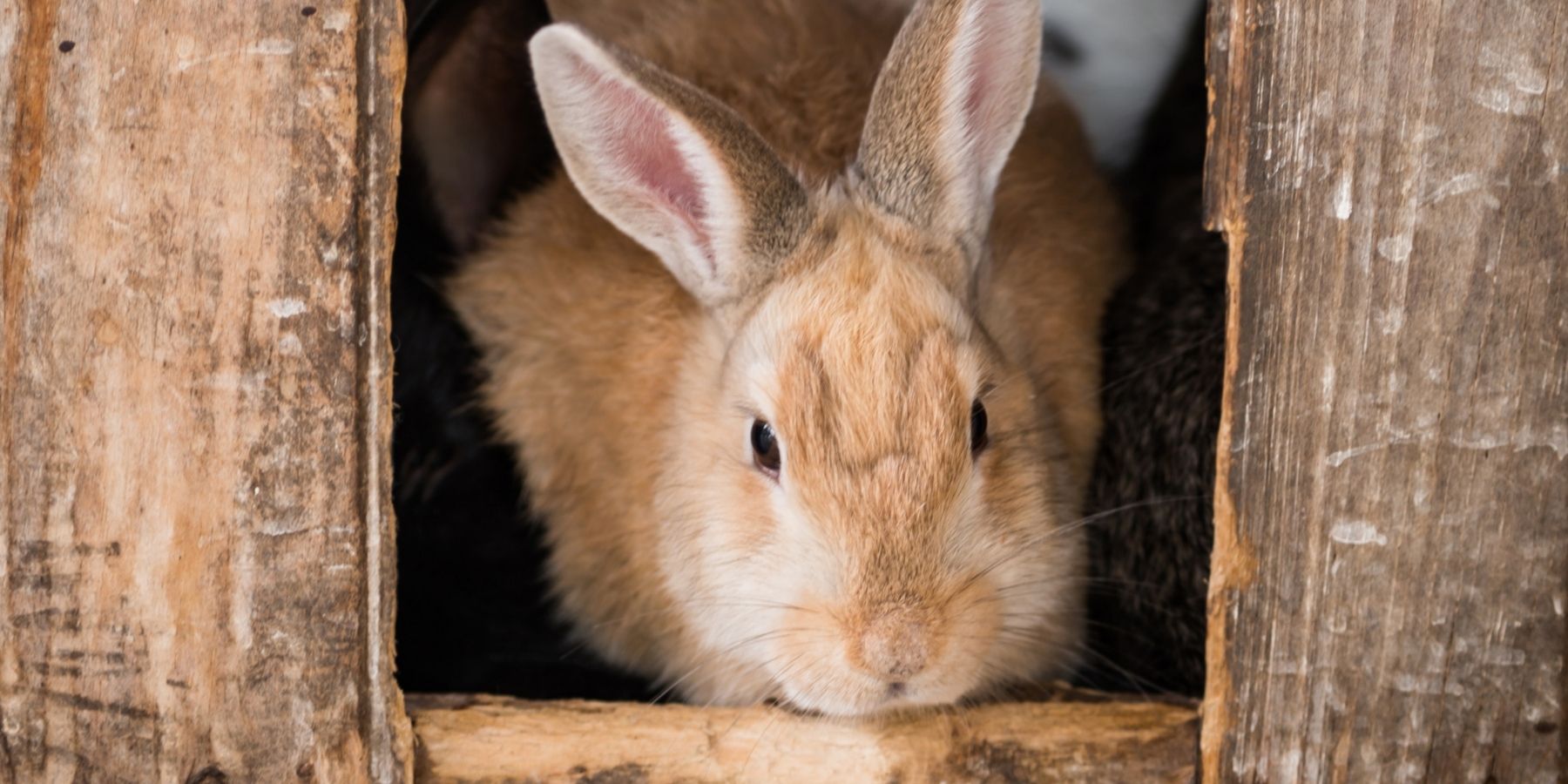 Things To Consider When Buying Outdoor Rabbit Cages
Size
When you're buying outdoor rabbit cages, keep an eye on the dimensions. Pictures might be deceptive when it comes to size. In person, products may appear larger than they appear in images.
Look for consumer photos to get a better idea of how big these are. Also, measure and draw the dimensions of the cage while taking out the tape measure. Not only must you ensure that it fits in your designated area, but you must also make sure it can fit your quantity of rabbits.
Materials
If you want to put your rabbit cage outside, you must verify that it is designed for all sorts of weather conditions. You'll want something that's treated for outdoor usage and has a genuine roof as well. The last thing you want is your rabbits to be sitting in their house with no protection while it rains outside.
It would help if you also considered that, after a few years, your outdoor rabbit cage would almost certainly require some upkeep. It may be as simple as painting or oiling a rusted latch in some pens. The maintenance shouldn't be too tricky, but keeping track of it can make a significant impact on how long you can enjoy your rabbit cage.
Cleaning
Keeping your rabbit's cage clean is one of the essential aspects of caring for them. Some outdoor rabbit cages are easier to keep clean than others. Cages with a slide-out tray with a grid over the top are the ideal design. The grid allows the rabbit to walk around without stepping in their mess, which will assist in keeping the entire cage cleaner.
Another problem is that some cages do not have a grid above the tray; thus, your rabbit will continue to walk through a dirty portion of their cage. Another difficulty when there isn't a grid is that you'll need to confine the rabbit somewhere else after removing the tray, or else there will be just a big hole in the rabbit cage for them to flee.
Ramp
There will usually be a ramp between the levels of a rabbit cage if it is multi-level. Make sure the slope isn't slippery. If you don't look for this, your rabbits might have trouble climbing up and down, putting them at risk of sliding or falling.
Latches and Safety
Latches are standard on all rabbit cages. As a responsible rabbit owner, you have to ensure that the latches are in working order and, if required, add locks. You should add Locks if you have young kids because they may believe it's ok to leave the rabbit cage open. And, of course, with no lock, your rabbits can escape.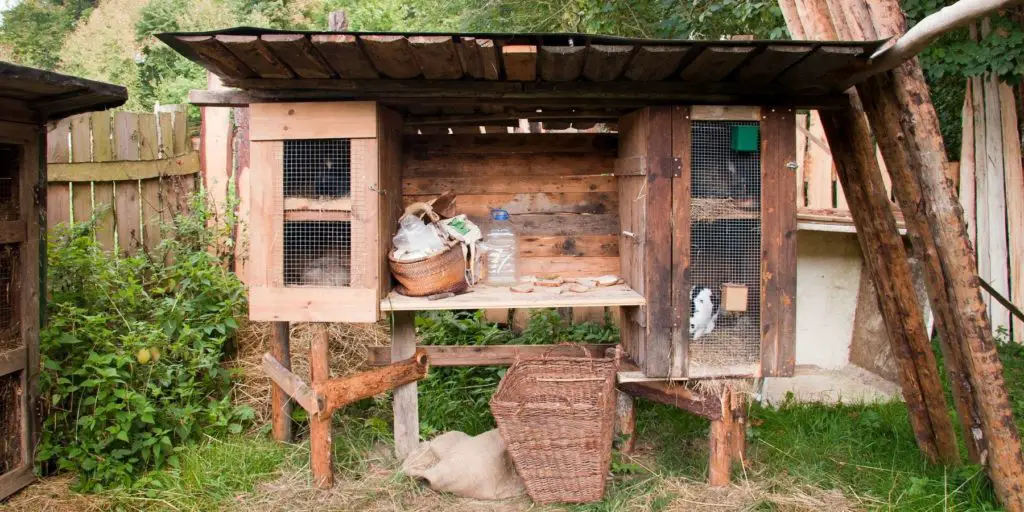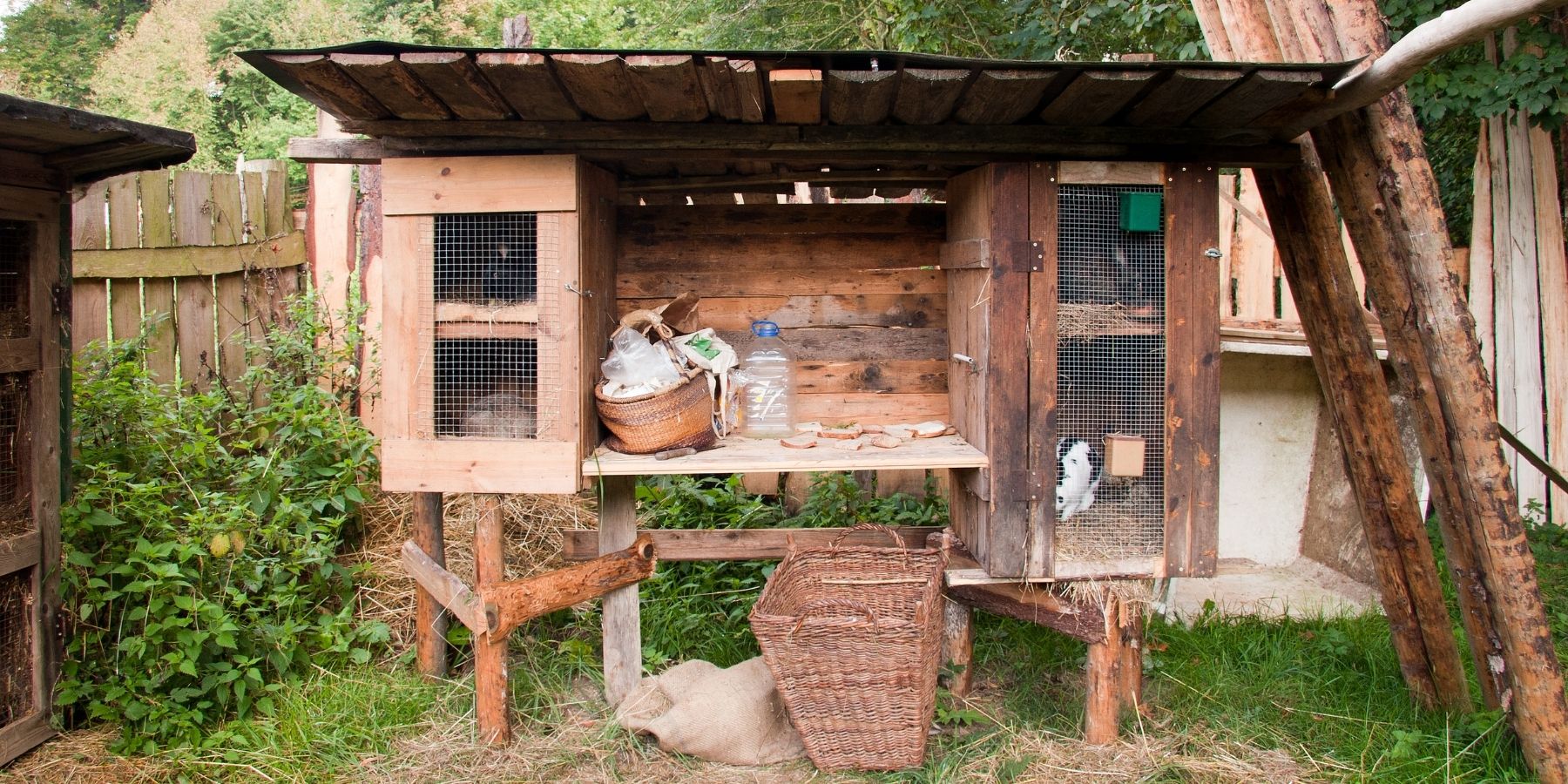 Things To Consider When Buying Rabbit Hutches
Safety
The most straightforward function of a rabbit hutch is to keep your rabbits inside and predators out. This is the primary role of a rabbit hutch, and if you have any doubts regarding its safety, remove it from your list. You should ensure that you have free access to your pen but not other people or animals. Even if the pen does not include a lock, adding one is helpful.
Price
The pricing of rabbit hutches varies. If you want a run and a sleeping area, the price tends to go up. Rabbit hutches that resemble hotels and actual houses will cost more money.
If you spend more on a hutch because it is made with high-quality materials, we think you're making an excellent decision. You may wish to reconsider if you pay a significant amount for an item with low-quality building material yet looks good.
Levels
A rabbit hutch may be purchased as a two- or three-level structure. The levels can help keep rabbits apart if necessary, or they may provide them with more room to stretch out. When purchasing a leveled rabbit hutch, make sure the ramp is long enough for your rabbits to use as a transition.
Ramps will be positioned at diverse angles, and some will have anti-slip properties; others will not. A steep ramp with no anti-slip qualities is likely to act more like a slide than a slope, putting your rabbit at risk of harm. In addition to the risk of injury, you could find yourself in a position where your rabbit cannot climb up the ramp to access other levels.
Cleaning
In a rabbit hutch, an easy-to-clean tray is almost a must. You don't want to have to clean out the entire hutch every day. It's much easier to clean and store a tray than it is to clean the whole hutch.
How Many Rabbits Can You Put In A Hutch
Make sure that the hutch you select is big enough for the number and kind of rabbits you have. Because rabbits come in so many different breeds and sizes, most hutches will not say whether they are suitable for one rabbit or several. You must make this call yourself. If you have numerous rabbits, you'll probably need multiple hutches or hutches that may be linked together to form a bigger rabbit house.
Space
Before purchasing, double-check the dimensions of all components. Ensure there's enough room in your home or yard to install the hutch; you may wish to measure it first.
Location
Will your rabbit hutch be inside or outside? Some rabbit hutches are designed to be put outside and are constructed of weather-resistant materials. They'll have roofing on the top to keep the rain and elements out.
You can use a hutch like this indoors as well, although it may not be necessary. It's critical to provide adequate ventilation and light for indoor hutches. The light within the cage may not be as bright as that outside, and you don't want your rabbits to endure a gloomy environment.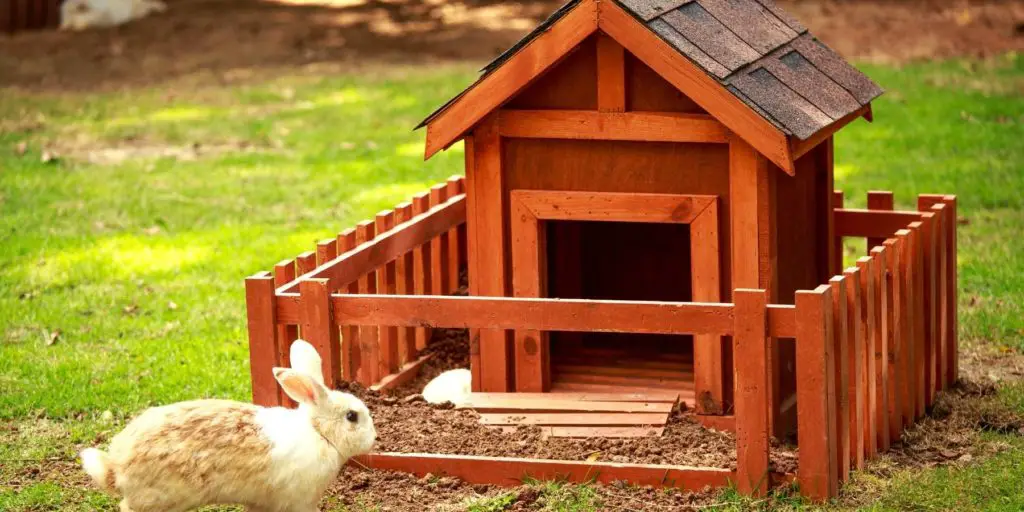 Why Choose A Waterproof Rabbit Hutch?
If you're thinking of keeping rabbits as pets, a waterproof rabbit hutch is a superb option for their housing. They offer more comfort than dedicated outdoor hutches and are safer for your rabbit's health than indoor cages, giving owners the best of both worlds when it comes to letting their bunnies be free.
Because indoor rabbit cages usually lack a roof, they leave your pet extremely vulnerable to being rained on. If caught in the rain, rabbits are doubly harmed by getting wet; their thick fur takes a long time to dry, and changes in body temperature can make them ill.
Outdoor rabbit cages are primarily designed for use as a fur and meat source and lack many of the creature comforts and amenities that you would want for your pet's life. Furthermore, outdoor cages are the most weighty alternatives available for rabbit housing, requiring a significant setup process.
Things To Put In A House For Rabbits
Here are some supplies and accessories that you may need to add to your new pet bunny house:
Litter
Timothy hay
Water bowl
Food bowl
Treats
Final Thoughts
I hope you find this house for rabbits – ultimate buyer's guide helpful. I know it can be hard to choose rabbit hutches and cages, but now with all the information in front of you, hopefully, that will make your decision a little easier.
You want something that will provide space for your rabbit(s) and ease of use – especially if they are indoor rabbits! There is nothing worse than trying to clean out a rabbit hutch or cage when it is difficult to access every area, so try to get one where there aren't too many nooks and crannies!
Also, think about how much time you have? If you don't have much time, perhaps go with an option that only requires minimal cleaning. We have listed rabbit hutches and rabbit cages that are all easy to clean, so rest easy when deciding on which one would be best for you!
Before you go, why not read our ultimate guide about How to Safely Clip Your Rabbit's Nails? Or, you can read The Ultimate Guide To Feeding Your Pet Rabbit. Thanks for reading House For Rabbits: Hutches & Cages – Best Buyer's Guide!